Have you recently visited a friend and noticed that they had remodeled their backyard patio? It is complete with bells and whistles, including a spectacular firepit, border walls, and beautiful, patterned walkways. Were you so mesmerized that you immediately wanted to invest in getting your own yard hardscape upgraded, too? If you are wondering how they got their backyard to look like a wonderland, they probably used the services of stamped concrete contractors in Las Vegas. But how can you hire such contractors?
If you are not familiar with stamped concrete, it is a process by which concrete contractors will pour concrete into a space that they have cleared and use rubber stamps with designs in them to create a pattern. The company may also refer to this process as decorative, textured, or imprinted concrete. They can apply the pattern to a driveway, patio, porch, or walkway. Stamped concrete contractors typically work with outdoor spaces, transforming them into beautiful artistic spaces made of concrete. However, they can also install stamped concrete flooring. You can get pattern options that resemble wood stamps or flagstone. Or you can get a design all your own. 
On average, in Las Vegas, it costs around $3,000 to install stamped concrete. This price may go up or down depending on the square footage of the installation and whether you want to include additional features, including tints or sealant. The installation cost may also increase based on whether you want to customize the design. Stamped concrete is gorgeous, durable, slip-resistant, and easy to maintain once it's sealed. When installed indoors, it is ideal for those who have trouble with allergies because it doesn't attract dirt and allergens as carpet does. If you are convinced that you want stamped concrete, here are some steps to hiring great stamped concrete contractors in Las Vegas.
Step 1: Determine your budget. 
Before calling stamped concrete contractors in Las Vegas, it is a good idea to determine how much you want to devote to the project. Once you set a budget, you should also include a contingency of a thousand dollars or more, especially if you have a huge backyard or a basement with lots of square footage. 
Step 2: Get written quotes from at least three companies.
Some homeowners simply call up one stamped concrete company and have them get started on the work. However, it may be a good idea to explore your options, ensuring that you are getting the best deal and choosing the company best suited for the job.
Step 3:
Interview your final candidates.
You may be tempted to stop at step two, basing your final decision solely on price. However, it is a good idea to decide based on more than just price. Cheaper doesn't always indicate that the service is better. Stamped concrete is a very artistic form of laying concrete. Working with a stamped concrete company that can show you that they can produce beautiful results is the company you should choose. Therefore, it is a good idea to follow through on this step to ensure that you successfully vet your final candidates carefully. Upon taking time to pick your top three candidates thoroughly, you will be able to rest assured that you have chosen the best. You will also be happy that you took your time and asked the right questions, and requested images and references so that you can have a long-lasting, beautiful outdoor retreat. 
After hiring the right candidate for the job, here are just a few things you can expect from the stamped concrete installation process. On the first day, the team will pour the concrete and form it. At this time, they may also add color to the concrete. On the second day, they will come out and make saw cuts and powerwash the concrete. Once this is done, they will have it sit again overnight to cure. During this process, they ask that you keep people and animals from walking on the surface so that it won't leave prints, destroying the finish of the stamped concrete. If it is a driveway, you likely won't be able to park on it for a few days. Some contractors will return on the third or fourth day to apply a sealant if you prefer. However, some contractors prefer to let the stamped concrete cure for up to 30 days before they come back to apply a sealant. Once they are done, you will have a remarkable driveway, floor, porch, or patio.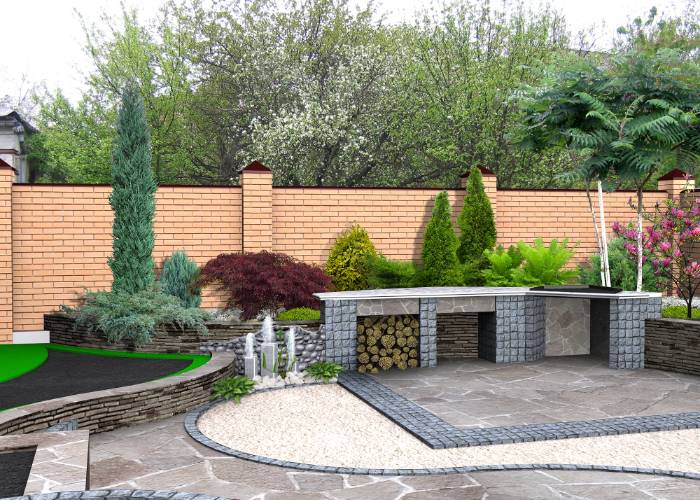 For over 20 years, the expert stamped concrete contractors from Las Vegas Stamped Concrete Designs have worked hard to bring top-quality services to homeowners. We transform driveways, pathways, indoor floors, porches, fire pits, and more using traditional designs such as wood, flagstone, and paver stamped concrete. In addition to our traditional stamped concrete patterns, you can also work with one of our highly skilled consultants to customize a unique design perfect for your stamped concrete hardscapes. Our stamped concrete contractors in Las Vegas are eager to work with you to bring you a dynamic, bold design that makes your property stand out. Are you ready to get started with our stamped concrete services? Contact us today at (702) 903-2969 to lock in your no-obligation estimate.